Manuel Antonio is the The Best Place to say "I DO"
Welcome to Manuel Antonio! Named as one of the most beautiful places in the world by the Forbes Magazine and the Hotel location included as one of "1000 Places to See Before You Die" book by Patricia Shultz's. Join us in our tropical Eden and begin the rest of your life in a location that would live you breathless. Every wedding is a special event, but a Destination Wedding is a unique adventure.
After all, instead of climbing into a limo for a ride at the local hall, you are boarding a plane, dress and passport in hand in route to an exotic Venue that's reflective of your style. There's no pedestrian rehearsal dinner for your wedding party, you may have more than 2 days with your guests to enjoy pre-wedding activities, from Surf Lessons to a fully adrenaline Canopy Tour through the jungle. And in place of a standard ceremony, you are saying vows in a completely breathtaking setting.
Best of all by the moment you're pronounced husband and wife, you'll already be on your Honeymoon.
The Adventure Wedding, Til death do us part, I will adventure with you.
You two have a had time sitting still, and so most of your Family & Friends. Share you our Love for Adventure and Exploration, by hosting a Wedding at La Mariposa an exciting and gorgeous place to begin the rest of your life's.
Why you'll Love it? Star-filled Skies, fresh air, amazing sunsets, backpacks full of local sweets, trail maps & excursion suggestions as a welcome bag. Best Sunset Spot of Manuel Antonio for a Barbecue Rehearsal Dinner.
Why Guests Will Love it? There's always something to do... Canopy (Zip lines), Hiking in Manuel Antonio National Park along with the monkeys, Horseback riding, catamaran tour with snorkeling, white water Rafting...You won't get a boring moment at La Mariposa.
Latest Weddings Celebrated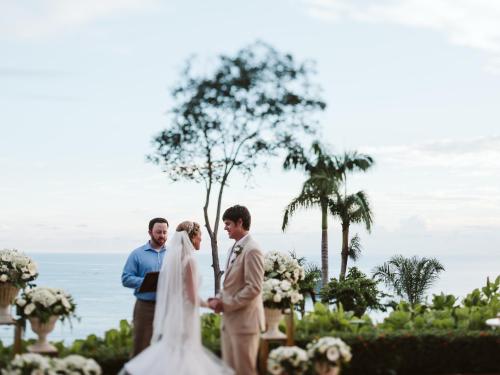 Please click on the names to visit the photo galleries!!